Madden 22: How to Master the Coaching Tree
We'd Appreciate the Share!
Estimated reading time: 7 minutes
We are going to be showing you how to properly utilize and master the brand new Madden 22 coaching tree in Madden 22 Franchise Mode. You will also learn what is the best custom coach to use in Madden 22.
EA switched it compared to how it was last year, which is actually a good thing because Madden 21 customized coaches were absolutely abysmal. What hasn't changed, however, is can you trust that it actually works?
Moreover, Madden is going more towards an NCAA 2014 approach, but they still have a long way to go before it is an intricate system that truly needs a strategy.
With that being said, which customized coach should you start out with, "Staff Builder" or "Team Builder"? This is an important question that we will cover in this article.
What is the New Madden 22 Coaching Tree?
The new Madden 22 coaching tree is a much more intuitive system than in previous Madden games. It gives you a more personalized experienced and keeps things fresh.
First, you can pick how you want to customize your coach by picking "Staff Builder" or "Team Builder". Each one has its own perks but one is better than the other. So much so that there is no reason to pick one over the other.
Whichever route you go – we'll give you our recommendations – you have two trees you can use; one is the "Player Growth" tree and the other is the "Staff Modifications" tree.
You can only go down one side of each tree, and there is a fool-proof strategy for your playstyle – user or simulation. We ran the tests for you so you can get the most out of this new system.
NOTE: Whichever side you choose to go down in either tree (Player Growth or Staff Modifications), you cannot go back.
Whichever side you choose, there are tiers for some of the tree perks as you can see in the images provided below. The ones that have tiers are those that have a 0/2 insignia so the perks will get better for each one.
How do you know which coach customization is the best to pick, though? Well, we get more into that in this article below.
Video Tutorial
If you'd prefer the written instructions you can keep reading.
SEE ALSO: Best Schemes and Playbooks in Madden 22
Example of what you get for using "Staff Builder":
"Eye For Talent" gives you the "Player Personnel talents cost 10% less".
Example of what you get from using "Team Growth":
"Secret Remedy" gives you "Decrease multi-week injury recovery time".
SEE ALSO: Player Personnel Pro Guide in Madden 22
What Custom Coach You Should Use in Madden 22
This one is actually easier than you think. You should, indubitably, use "Team Builder". Team Builder will give you 10 more staff points to use in your Madden 22 franchise.
There is no reason you should use "Staff Builder" when you get docked 10 points to use on your coaching trees. You wouldn't take one job that would pay you less over the other that will pay you more, so apply that same logic here and it's a no-brainer.
So our answer is "Team Builder". The coaching tree upgrades are the most valuable so the winner here is easy. EA should at least look into making it balanced or making it a more difficult choice.
If you have a different opinion let us know why in the comments below!
How to Use the Madden 22 Coaching Tree for Simulation
After you have picked "Team Builder" for your custom coach, you need to then categorize each tree from a simulation or user-play standpoint. What's the best route to go for the simulation playstyle? This is a question that needs to be asked and we have the answer.
If you combine our system we have provided in other articles and videos on our YouTube channel, then you will see that there are certain positions that get a lot of love.
For example, in our Best Playbooks and Schemes for Simulation in Madden 22, you will see that your defensive linemen will get a lot of sacks and you will see your defensive players gain a lot more XP than normal.
Both user-play and simulation have different needs; for simulation, you want to go down the right side of the "Player Growth" for Offense. The reason being, defensive XP for simulation is easier to earn than offensive XP.
Your offensive linemen will struggle to get XP; drafting a great lineman is tough to come by as well. Furthermore, we have never really struggled in getting high-end defensive players. This is why we recommend going for the offensive side of the "Player Growth" tree.
We play a lot of simulation rebuilds and Doddery, our YouTube video creator, has completely mastered the simulation game. You need to check out our 57 OVR Sleeper QB Replaces Mahomes?! Chiefs Rebuild Madden 22 video if you haven't already. He just won a game in simulation 73-13 using the guides we have released, which are being released soon on our site and YouTube channel.
Now, let's move onto the "Staff Modifications" tree. Our recommendation is to keep things more balanced, so going down the right side (defensive side) will be more beneficial.
The reason it's more beneficial is that you are working on your offensive player's XP since the offense earns less XP than defense in simulation. That being said, you want to balance it out by allowing your defensive staff to earn more XP.
In simulation, you want to make sure you keep things more balanced. If you follow our guides then you will succeed in your Madden 22 franchise.
SEE ALSO: 1-Year Pro Trading Method
How to Use the Madden 22 Coaching Tree for User-Play
Once you have picked "Team Builder" and are now at your coaching tree, you need to customize each tree to your needs as a user. There is no one-size-fits-all approach.
Let's start with the "Player Growth" tree. Remember, whichever side you choose for each tree is the only side you can choose. You need to ask yourself, "What is my team the weakest at?", and then go from there.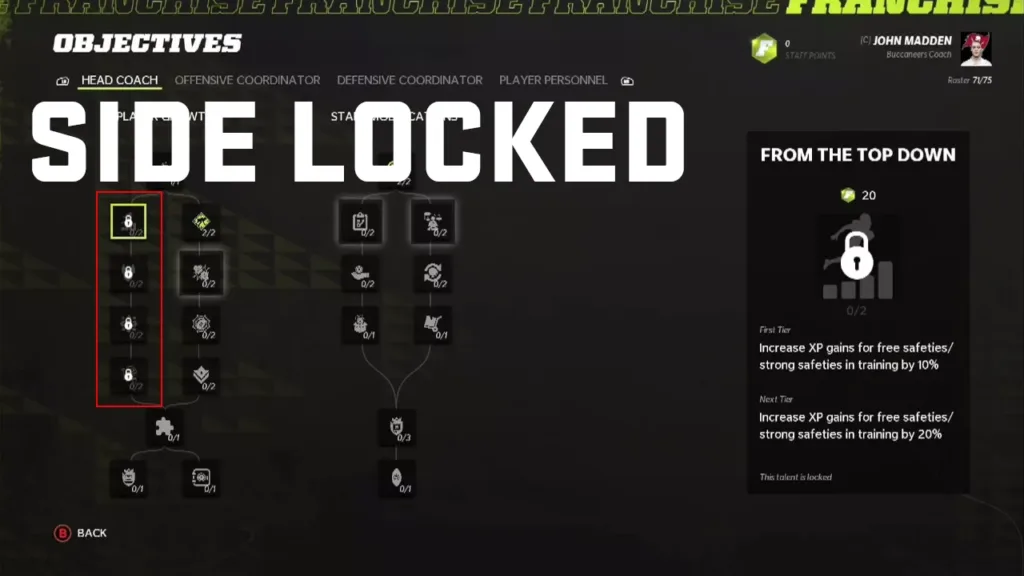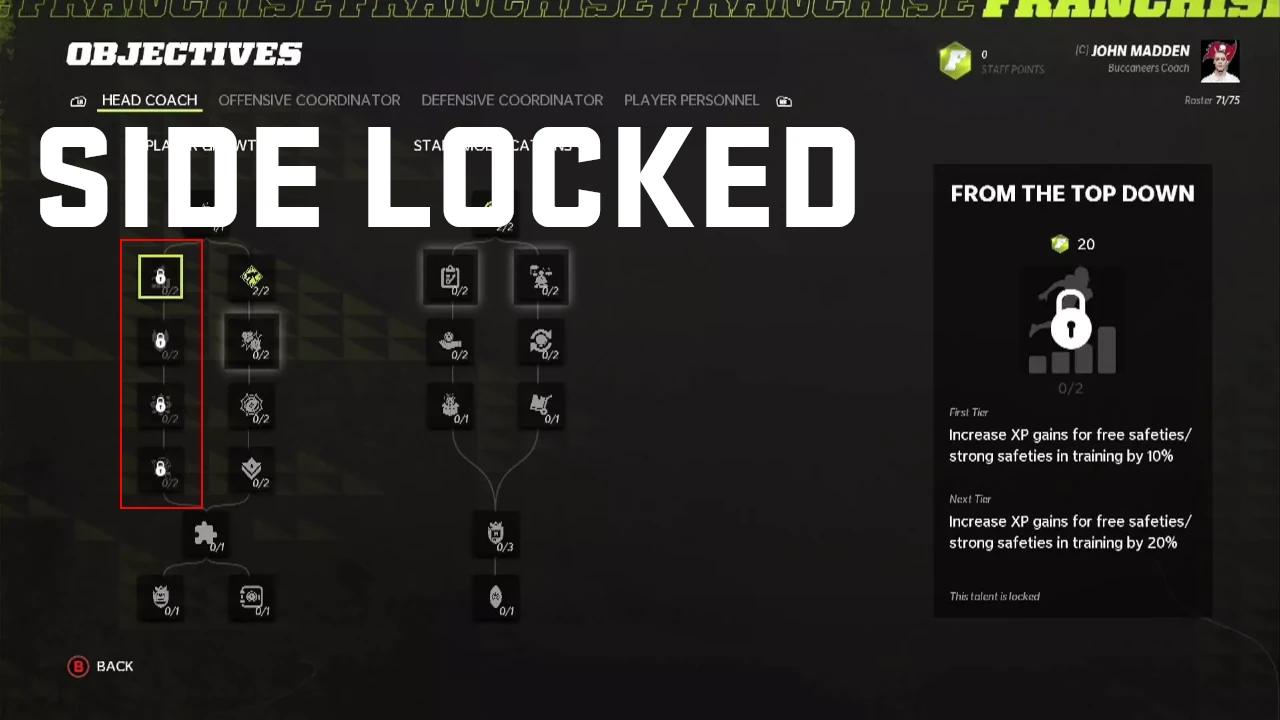 So if your team's weakest point is defense, then go down the left side of the "Player Growth" tree. This will give you increases on your free safeties, strong safeties, defensive linemen, linebackers, and cornerbacks.
If your team's weakest point is offense, then go down the left side of the "Player Growth" tree. This will give you increases in all of your offensive players, such as offensive linemen, HB FB WR TE QB
Now let's move onto the "Staff Modifications" tree. The defensive perks will now be on the right side instead of the left side and it will only pertain to your staff hence "Staff Modifications". Just pointing out the obvious!
If your weakest point is defense then choose the defensive side of the "Staff Modifications" tree. You have choices of the following:
10% talent point refund when replacing a defensive coordinator.
Your defensive coordinator talents cost 10% less.
Increase the hiring bonus when signing a defensive coordinator.
Simply choose the routes that you are weakest on. You can only choose one or the other so choose wisely!
We hope this Madden 22 coaching upgrade tree has helped you in your Madden 22 franchise! If you have any questions just let us know in the comments below and we will get back to you!
If you liked this tutorial then subscribe to our YouTube Channel for other Madden content like this. You could also check out all of our Madden NFL 22 Guides to explore more content.
DodderyCribb, A.K.A. Dodds or Doddery, has been dominating the gaming industry for over two decades. He has defied the odds in Madden by trading for "impossible" players and mastering Madden contracts to name a few. Dodds has made signature content, such as the SAR, SAT, Contract Reset Method, and much more. You can also find him playing and writing content for mobile games.
Signup to Tips4Gamers.com Newsletter: