After reading this tutorial on the best playbooks and schemes for Madden 23 Franchise Mode, you will be able to dominate your league in just about every category.
With the best playbooks for sim in Madden 23, you can accomplish what we accomplish in our rebuilds. That is 29.5 sacks (per season), 170 tackles (per season), 7 interceptions (one game), 6,000+ yards passing (per season), 40+ TDs, and many other stats you can just wrack up.
Your defense and offense will be stacked and just about impossible for opposing teams to stop with these best playbooks. Now, to add to all of that domination, we will add the best schemes for Madden 23 as well.
The combination of the best schemes along with the best playbooks is important. That said, we tested which ones were the best so you don't have to.
If you are looking for the best playbooks for user-play, that is more of a personal preference. However, simulation is out of your control, so implementing the best playbooks is imperative.
Schemes, on the other hand, are important for both simulation and user-play. So pick your favorite playbooks and pair them with our schemes.
Video Tutorial
If you'd prefer the written instructions you can keep reading.
Best Offensive Scheme Madden 23
The best offensive scheme in Madden 23 Franchise Mode is Vertical Zone Run. There is no other offensive scheme that is better.
The reason Vertical Zone Run is the best offensive scheme is the archetypes. This package comes with the best archetypes for each position, which we will cover below.
QBs: The archetype for QBs in this scheme is Strong Arm, which is one of the two best archetypes for a QB. Strong Arm should be your end goal for your QB.
HB: Elusive Back is the archetype. Elusive backs are "kings of destruction in the run game." They will be your fastest backs. If you move a WR over to HB, you will see that they make the best HBs in the game and most fit that archetype.
FB: Blocking FBs are the FBs you want. Let them stick to their job title. We will show you what TEs you can move over to FB that will fit the scheme and will be a better FB than a FB. You will also be able to pass to your FB and he will be able to catch the ball. That would make for a very dynamic offense.
WR: Deep Threat ties in with that elusive style in regards to speed. This is especially great since you will have WRs for both the WR position and the HB position. You will have peace of mind knowing you will not be fighting your schemes.
TE: Vertical Threat is the best for receiving. It has speed and catching but it generally (not always) lacks in blocking.
LT: Pass Protector is important because QBs are normally right-handed so you always want to protect your QB's blind side. If it were a left-handed QB, you would just swap it to the right side.
LG, C, RG, and RT are all Agile. The reason you want this archetype is that you want linemen to be good pass-and-run blockers, and Agile will handle that for you.
You can find more information in the video listed above. If you have any questions on this then let us know in the comments below.
Best Defensive Scheme Madden 23
The best defensive scheme for Madden 23 will be 4-3 Quarters. No other defensive scheme is better but there are others that are good. However, if you ever face an opponent with this scheme, you will lose the majority of the time.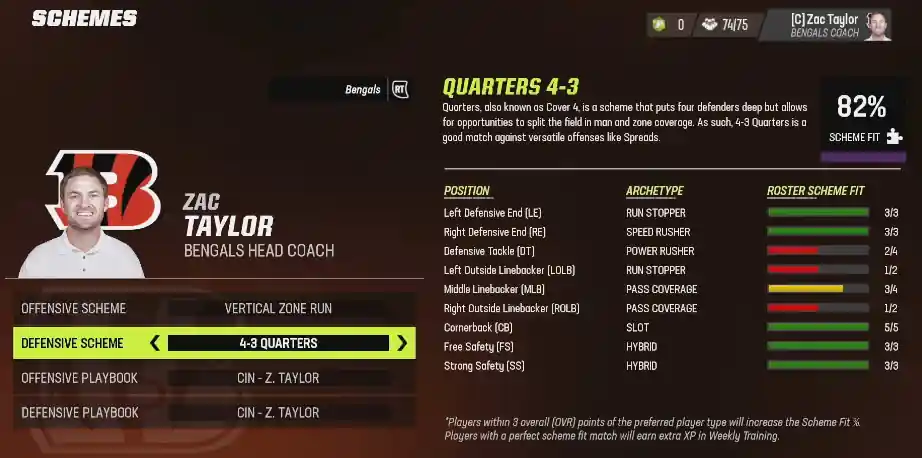 This defensive scheme is best suited to shut down all angles of the opposing offense. If the opposing offense is a passing offense, running offense, or balanced, then this defensive scheme will be best suited to shut it all down and make them change up their game plan. It will also prevent quick scoring and will get your offense back on the field, which can score quickly.
Defensive Linemen
Each defensive lineman's archetype listed in the defensive scheme (as shown in the photo above) does not have to be taken literally. You can take the best available player instead.
If you have a power rusher DT, you can take him and move him over to the LE position to meet the demands of the Run Stopper archetype. Power Rusher and Run Stopper are pretty closely intertwined.
However, make sure that every now and then you work on someone who is a Run Stopper and make sure your backups are the same to work more on your scheme fit. This is something that may take a bit of time but piece it together in the end.
Your goals are not only to stop the run but to also apply pressure to the QB and give him a little sack.
Linebackers
The great thing about having your MLB and ROLB a Pass Coverage archetype is that you can move a safety to linebacker to fit that scheme. Safeties are often overlooked when thinking about moving them to linebacker even though they fit that job title beautifully.
With that being said, you are going to want to add the big run-stopping safeties to linebacker. They not only have the pass coverage, but they will be able to stop the run as well.
Deep Backs
Slot for a CB is an okay archetype, so we go after a CB who is heavier on the Man Coverage. Then, we will work on the Slot from there.
Hybrid safeties are great because it adds an intricate aspect to your defense that is just so hard to stop. This will also allow you to move CBs to safety.
Best Playbooks for Sim Madden 23
The playbooks may change as the year progresses, so we will update this as well as post an updated YouTube video on this.
Best Offensive Playbook For Sim in Madden 23
On average, you are going to get more passing yards with Tampa Bay's offensive playbook. There are some other options if, for whatever reason, you only have a run-heavy offense.
The other options would be Cleveland or Tennesse's playbook and then work your way toward a passing offense. Tampa Bay's playbook is king here, so this should be your end game.
Tampa Bay's offensive playbook will also fit with a QB who is a Strong Arm or Improviser so keep that in mind.
Best Defensive Playbook For Sim in Madden 23
On the defensive side of the playbooks, you are looking at Buffalo. This defensive playbook works best with our defensive scheme and will create turnovers and sacks like wild beasts.
You can watch our schemes and playbooks in action in our Texans rebuild here. Our defensive lineman broke the season sack record at 29.5 sacks.
We would use this playbook in user-play as well, not just simulation.
We hope that this best playbooks and schemes in Madden 23 for simulation tutorial helped you in your franchise. If it did, let us know some stats in the comments below, we would love to hear it!
If you have any questions on anything here please let us know in the comments below and we will get back to you.
If you liked this tutorial then consider subscribing to our YouTube Channel for other Madden content like this. You can also check out all of our Madden NFL 24 Guides and explore even more content.
I love everything there is about gaming. That is just about what I always do because that is my true passion. When you don't find me indulging myself in gaming content, you can find me coding or somewhere outside where all you can hear and see is nature.
---