Estimated reading time: 2 minutes
We are going to show you how to change roles in Madden 22 Franchise Mode. You may have thought you need to completely start a new franchise just to change your role so you ended up here.
After reading this article, you will figure out how to switch from coach to owner, player to owner, owner to coach, or any other combination you can think of.
You may be here from our How to Relocate in Madden 22 Franchise Mode or Madden 22 Relocation Teams | All Uniforms, Logos, & More articles because you have to change your role in order to relocate.
Whatever the reason, let's jump into this.
Before Getting Started
There are some important things to keep note of when you are changing your role. Read through this before getting started.
And if you still have questions let us know in the comments below and we will get back to you.
If you decide that you do not want to follow through, you can back out BEFORE you choose to "Start Playing".
When you choose "Change Role", you will only see Player or Owner because you are the coach by default. You can choose "Use Custom Coach" to make it unique to you.
All of your previous character's progress will be lost when choosing a different role.
You can only be an owner ONCE for each team. This means you will not be able to go back to a previous team as an owner (Owner will be locked).
You can choose to be a coach or player as many times as you want.
Now all of the important things are settled, let's do this thing.
How to Change Your Role in Madden 22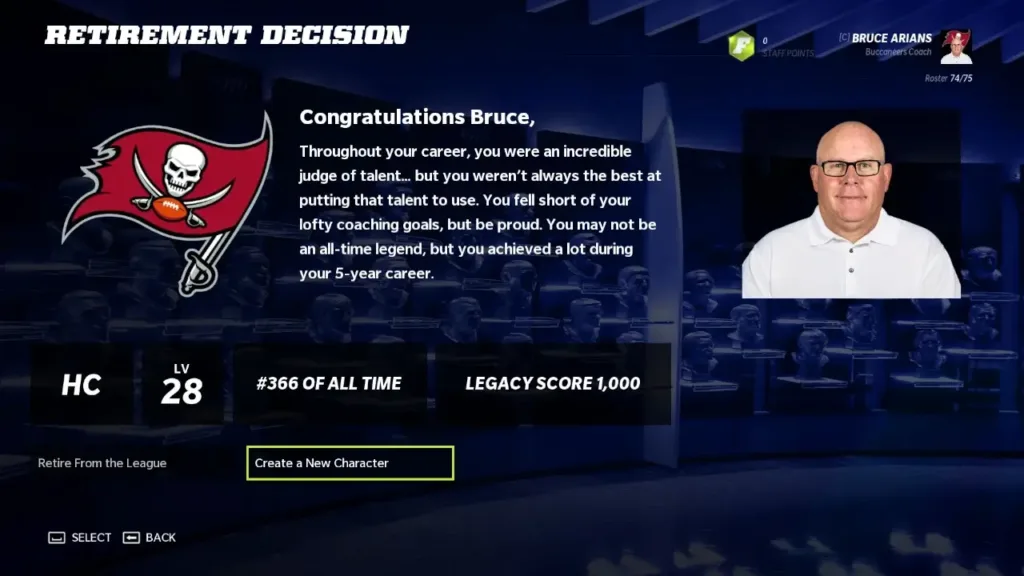 Head to the "Options" tab.
Then choose "Retire".
IMPORTANT: Choose "Create a new Character" and NOT "Retire from the League". Retiring from the league means your franchise will be gone forever.
A warning will pop up stating all of your progress will be lost with that character. If this is what you truly want to do, choose yes.
Now you can pick your team.
After you choose your team, scroll down to "Change Role". Change your role by choosing the roles available.
We hope this How to Change Your Role in Madden 22 Guide has helped you! If you still have any questions just let us know in the comments below and we will get back to you!
If you liked this tutorial then subscribe to our YouTube Channel for other Madden content like this. You could also check out all of our Madden NFL 22 Guides to explore more content.
I love everything there is about gaming. That is just about what I always do because that is my true passion. When you don't find me indulging myself in gaming content, you can find me coding or somewhere outside where all you can hear and see is nature.
---