How to Draft and Scout X-Factor QBs in Madden 23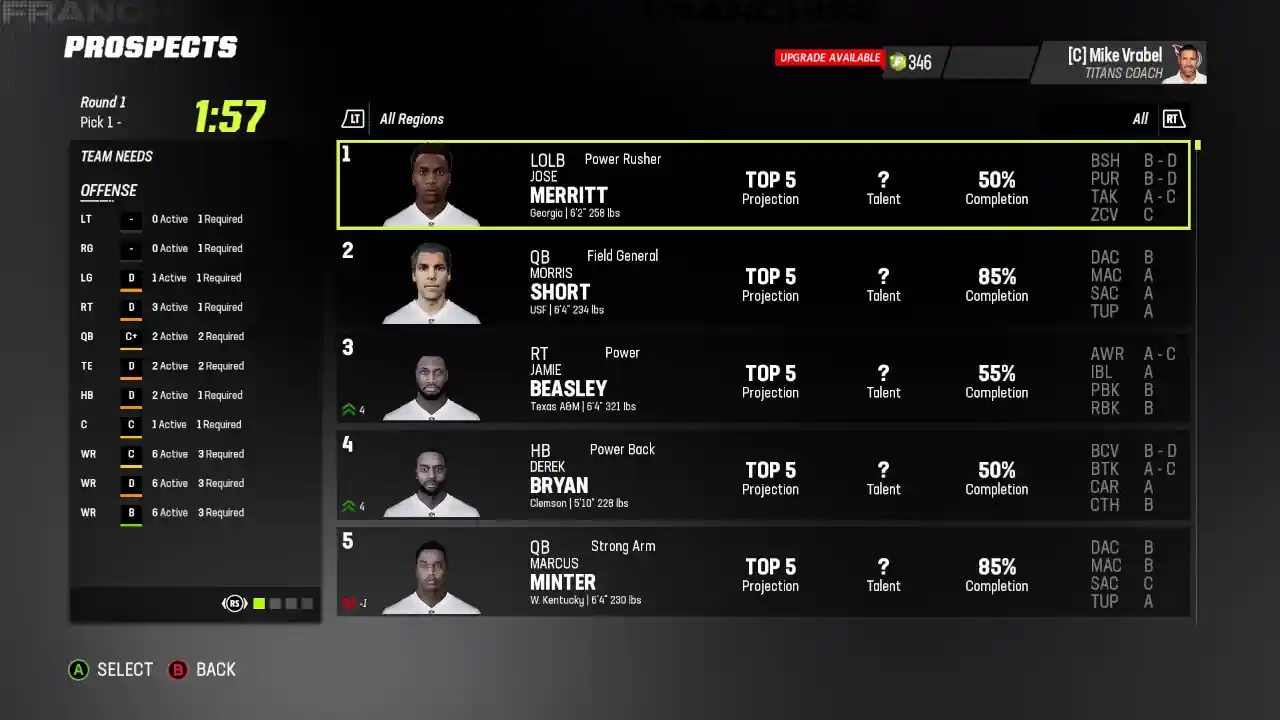 After reading this tutorial, you will have the best chance to draft and scout X-Factor QBs in Madden 23 Franchise Mode.
We are going to show you how you can look at each QB in the Madden 23 draft and pick the QB you want based on their traits.
In other words, you will know the QB's traits before you draft them. So, if there is a trait you want, you will be guaranteed to get that trait with this guide.
Knowing what the QB's trait is will give you the best opportunity to draft the best QBs.
Video Tutorial
If you'd prefer the written instructions you can keep reading.
Player Notes
The first thing you want to do is look at the Player Notes while in the draft. The notes for each trait will be the same.
To get to the Player Notes while in the draft, filter the position to QB. Then, click on the QB you're fond of and you will get to the Player Notes as shown in the image above.
Once you are on the Player Notes page, follow the steps below to know what trait is what for Sense of Pressure and Forces Passes.
Forces Passes has a total of three traits and Sense of Pressure has a total of five.
Sense of Pressure:
Sense of Pressure is going to have five different traits. We recommend committing to two traits, Ideal or Average.
Click on the player you want to draft and then you will see the Player Notes as explained above. The third line down from the top will have one of the quotes for one of the traits below.
Oblivious – "Pressure doesn't phase him because he doesn't know it's there"
Average – "Could use some improvement at recognizing pressure"
Paranoid – "Gets happy feet and feels non-existent pressure"
Trigger Happy – "Gets rid of the ball at the first sign of pressure"
Ideal – "Stands tall in the pocket and always aware of pressure"
Forces Passes:
Forces Passes has a total of three traits. We recommend two of the traits, Aggressive or Ideal.
Check out the Player Notes of the QB of interest. The top line will have one of the quotes from one of the traits listed below.
Ideal – "Will take calculated risks as a passer"
Aggressive – "Whether the window is open or closed, he's slinging it"
Conservative – "Abandons initial reads in favor of the checkdown"
We hope you now know how to draft a QB to get the specific traits you want. If you have any questions, please let us know in the comments below and we will get back to you.
If you liked this tutorial then consider subscribing to our YouTube Channel for other Madden content like this. You can also check out all of our Madden NFL 23 Guides and explore even more content.
I love everything there is about gaming. That is just about what I always do because that is my true passion. When you don't find me indulging myself in gaming content, you can find me coding or somewhere outside where all you can hear and see is nature.
---