Estimated reading time: 8 minutes
In this Idle Barber Shop Tycoon tips article, we will be covering some of the most asked questions along with giving you tips as well, such as how to get more barbers, cheats, how to get more chairs, how to get hearts, etc.
/Video Tut
This idle game was created by CodiGames, and if you have played any of their other idle games you should already know Idle Barber Shop Tycoon is a bit different. Their other idle games are a little more transparent when it comes to how to hire employees, upgrade the business, etc. This idle by Codigames, however, is a bit different and I actually like it better. You seem to make more money and start out as an entrepreneur starting your business from the ground up. You also make a lot more money… I am talking tens of thousands more. Let us know what you think about Idle Barber Shop Tycoon in the comments below.
Idle Barber Shop Tycoon: General Tips:
Decorations:
You will get the opportunity to upgrade the decorations in your barbershop. However, do not think you are stuck with the decision you first made. Not too far in the game, you will get to purchase every chair style, wall color, and mat style.
Reputation:
Everything about Idle Barber Shop Tycoon revolves around Reputation. The more you upgrade your chairs and towel service the more your Reputation will increase as well as income, of course. Eventually, your Reputation will increase pretty quickly.
As your Reputation increases, you will unlock new haircuts and beards. You will also be able to upgrade unlocked haircuts and beards to the point of mastery.
Reputation will unlock new missions in the story as well. Once you reach the Reputation goal set by the game, you will continue the story and unlock more missions.
Missions:
Missions are important for getting a lot of cash flow and gems. They also play an important role in unlocking new equipment, new hires, and new decorations. Once you complete a set of missions, keep earning Reputation to unlock new missions in the story.
Watch Ads
Usually, the ads in an Idle game by Codigames are too much. Even though you do not have to watch them, the perks to them are great, but it sometimes feels like you're just watching ads and not playing the game. This is not the case with Idle Barber Shop Tycoon, however.
You can watch an ad for more Gems, more cash flow, and 2x Reputation. Gems can be used for a few things, which we explain below in Idle Barber Shop Tycoon Gems. If you want to excel, then you should watch the ads. It will pop up on the upper right of your screen.
The Most Frequently Asked Questions:
1. Idle Barber Shop Tycoon: How to Get More Barbers
Hiring another employee is going to take some time. Unlike other idles from Codigames, you start out by yourself as an entrepreneur typically would. Just continue cutting hair and following the storyline will get you to the point where you can hire an employee. You will get to do this when you reach 130 Reputation. This will happen in conjunction with the question below.
2. Idle Barber Shop Tycoon: How to Get More Chairs
Getting an extra chair involves just cutting hair! Once you reach 130 Reputation, you will be able to add another chair AND hire another employee to help out your business as explained above. The further along you get in the story, the more chairs you will get to add and the more employees you will be able to hire. See our Idle Barber Shop Tycoon: Haircuts and Beards section for more tips on upgrades.
3. Idle Barber Shop Tycoon: How to Get Hearts
Hearts in Idle Barber Shop Tycoon do not come free. You may ask yourself, "What do I need the Gems for?" This is a good question. Hearts are one of the reasons you need Gems. So use your Gems for a Staff Pack to get more Hearts for employees.
4. Idle Barber Shop Tycoon: Gems
How to earn Gems in Idle Barber Shop Tycoon: There are two ways you can earn Gems. The first way is by completing the missions. You will get a bunch of Gems that way. The second way you can earn Gems is by watching ads to activate the Gems Boost.
You can use Gems for the Staff Packs via the Cart located in the lower right of your screen. This will grant you access to unlock hearts for a character.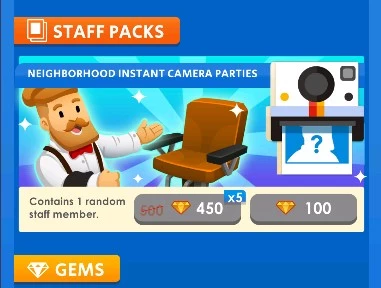 Since Gems cost real money (or other methods as explained above), you should keep 100 Gems instead of spending them on a new fancy chair that will eventually be advertised. So, hold onto the Gems until you can use them for the Staff Pack.
5. Idle Barber Shop Tycoon: Chair and Hot Towel Service Upgrades
The Chairs are a huge source of your income. The Towel Service is the source of your Reputation. Keeping up on these upgrades will benefit you in the long haul, but that is obvious.
Chairs:
You will need to upgrade your chairs to increase your income for Beards and Haircuts. Once you reach level 400 on the first upgrade, you will unlock the second upgrade. This is when you should focus on the second upgrade until you get to the third. By doing this, you will make it easier to upgrade the first upgrade due to an even greater increase in funds. Continue this strategy and you will get each upgrade fully upgraded.
Towel Service:
Towel Service is extremely important to increase your Reputation. The higher the level of your Towel Service, the higher the Reputation you and your employees will earn. So make sure not to neglect to upgrade your Towel Service. The strategy explained above in the Chairs topic should be applied to the Towel Service as well.
6. Idle Barber Shop Tycoon: Haircuts and Beards
You should never neglect your Haircuts and Beards upgrades to mastery. This will open the door to earning more money AND decrease the time it takes to execute a specific Haircut or Beard. In able to upgrade your Haircuts and Beards to Mastery, you will need to be at a certain reputation. This will be listed in the specific upgrade for each section. You can see the screenshot below:
7. Idle Barber Shop Tycoon TV Advertising
TV Advertising is important to bring in new customers. This should always be maxed out and it will run for one hour – or longer if you decide to watch ads to increase the time. Make sure this is always activated. It will cost a flat rate that is listed in the Advertising section and will run for the duration you paid for.
8. Idle Barber Shop Tycoon Cheats
There are no cheats or cheat codes for Idle Barber Shop Tycoon. However, there are APK mods that you could download. We will not recommend any nor would we recommend downloading 3rd party files not supported by Google Play or iOS. Download at your own risk.
We are a small team dedicated to giving the best tips and tricks, strategies, walkthroughs, and news articles for gamers. It is our passion.
---