Madden 22 Contract Glitch | Contract Reset Method
Estimated reading time: 5 minutes
In this article, we are going to go over the Madden 22 contract glitch A.K.A. the Contract Reset Method. This Madden 22 contract cheat is unique to us and you will not find it anywhere else.
Have you ever lost a 99 overall player to a disagreement on a Madden 22 contract negotiation? You are not alone. Some players are just way too expensive for any team to resign so you have no choice but to let them go to free agency.
After reading this Madden 22 contract tips article, you will no longer lose any more players and you will have the team of legends.
If you are the more realistic type of person then you can still utilize this Madden 22 contract glitch; you would just need to look at it differently. There are some contracts that no team, not even in real life, can sign. Do our signature method on those players. Since Madden isn't playing realistically in certain aspects of the game, why should you?
You will have complete control over the player's contract. You are in control and the player is at the mercy of your fingertips.
Before Getting Started
There are some things you need to know before you get started on our Madden 22 contract glitch.
1. This method will not work on any player who is injured.
2. You must be at the end of YOUR season. For example, if you make it to the playoffs, you need to play out the game first. AFTER the game is over and you lose, you can do this method. If you win, you must keep playing the following games until you lose. If you make it to the Super Bowl, great, but you can only do this method AFTER you play the game. It does not matter whether you win or lose at that point. In other words, this will only work if you do not have any games left in the season (regular or post-season).
3. You can do this method at any point in time after you lose. However, if you want to play it safe then sim to Super Bowl week (if you did not make it far in your season). Then you can start this method Super Bowl week.
4. You can do this for ANY player no matter their overall year after year. This will also work on as many players as you would like to do this for in any given year.
5. It does not matter if you upgrade the player or players before you do this.
NOTE: You can do this with a player who does not have a contract coming up (i.e. 4 years remaining), however, make sure you calculate the guaranteed signing bonus, otherwise, you can find yourself in serious financial trouble.
6. This will work online or offline, and it does not matter whether you are playing in an "Active Roster" or "Real-Life Roster".
7. If you sim past the Super Bowl and you have not started this method, it will not work and you will lose your player. Try again next year.
8. This will work the same for any team in Madden 22.
9. If you negotiate with a player and they made their decision to test the Free Agency then do not worry, you can still do this method.
10. You can do this in a user league. Whether it is a 32 user league or not, you can still do it. Just make sure to do the steps listed in our How to Do the Contract Reset Method below very quickly, otherwise, someone else could pick them up.
11. If you are in a user league, make sure to follow and respect your league rules.
If you do not follow these instructions and you try to do this method, you risk losing your player. If you still have questions then let us know in the comments below and we will get back to you with an answer.
What You Can Do With This Method
The world is your oyster when it comes to this Madden 22 contract glitch. You can get very creative with it.
Let's say you are at the end of a player's contract and you do not want them anymore for whatever reason. However, they may have some great trade value. Well, good news! Do the Contract Reset method on them and then trade him away for gold!
You can literally have a 99 overall team for as long as you practice this method in your Madden 22 Franchise. You will have a MUT status team. At that point, we will expect that you to play on All-Madden difficulty from then on out.
If you just do not have the funds to negotiate with a player you do not want to lose then you can do this method to try and negotiate with him next year.
Video Tutorial
If you'd prefer the written instructions you can keep reading.
How to Do the Contract Reset Method
SEE ALSO: Madden 22 Trading for Regression | Madden 22 Trade Tips
After following our instructions in the Before Getting Started above, release the player or players you want to do this with.
Then, sign the player or players you released back onto your team from the Free Agency right away.
You are finished! Now, the player(s) contract negotiations are locked for one year.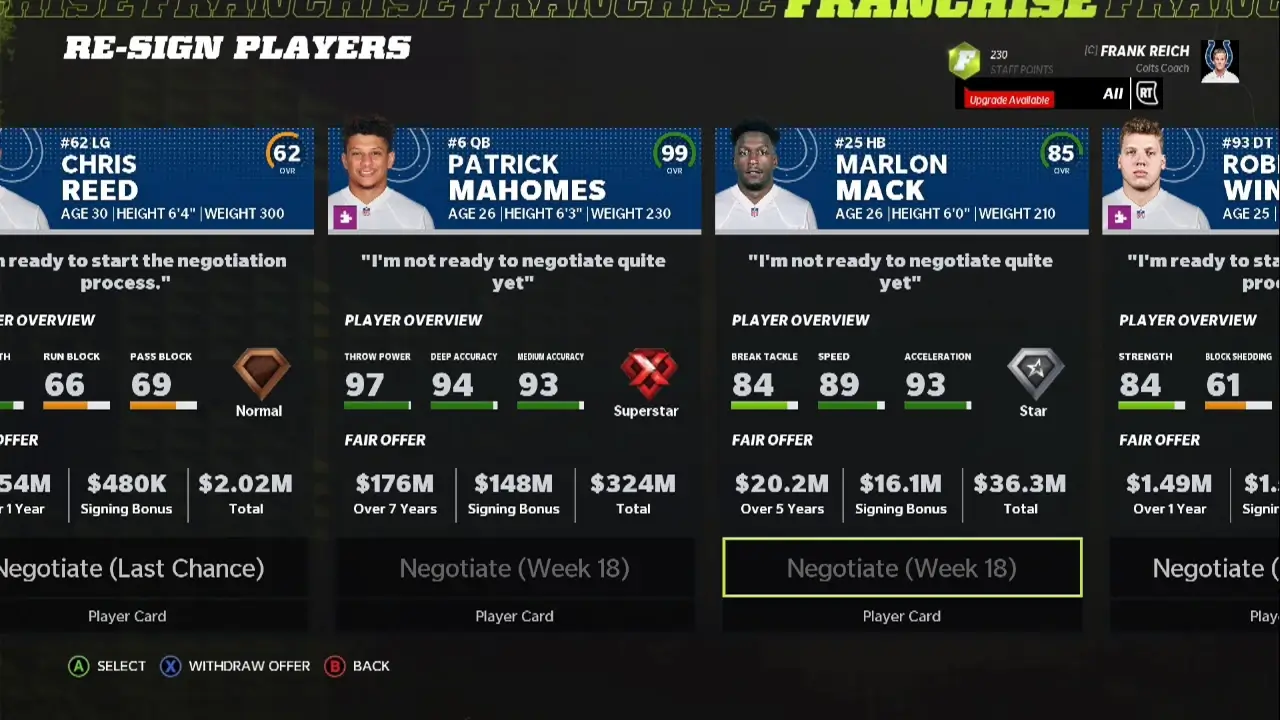 If you would like to confirm this you can go to "Team Salaries" and you will see that the player(s) have 1 year left on their contract instead of 0.
Let's say you want to do this for a player who has 4 years left on their contract and they're just extremely expensive, you will then see them locked in for one year. Take note of their signing bonus, otherwise, you will have serious financial consequences.
We hope this Madden 22 Contract Glitch guide has helped you in keeping your high overall players in your franchise. If you have any questions please do not hesitate to ask in the comments below.
If you liked this tutorial then subscribe to our YouTube Channel for other Madden content like this. You could also check out all of our Madden NFL 22 Guides to explore more content.
DodderyCribb, A.K.A. Dodds, or Doddery, has been dominating the gaming industry for over two decades. He has defied the odds in Madden by trading for "impossible" players and mastering Madden contracts to name a few. Dodds has made signature content, such as the SAR, SAT, Contract Reset Method, and much more. You can also find him playing and writing content for mobile games.
---