Estimated reading time: 3 minutes
What is the best shotgun in Cold War? This is a great question, and there are not too many to cipher through, thankfully.
Going against shotguns can be frustrating. It may have piqued your interest in wanting a shotgun for a little payback… Or maybe a little, "How do you like it?", kind of thing. That's human nature, and it can completely ruin or excel our gameplay experience.
There are a couple of shotguns on our list but one stands out as the best of all. At the end of the day, it is your personal preference. Take everything you learn and apply them to your needs and interests to make you the best you out there.
Video Example:
Now let's jump into this, shall we?
RELATED: Best Way to Upgrade Guns in Call of Duty Cold War
#1 .410 Ironhide
The .410 Ironhide is at the number one spot and for good reasons:
It's the most versatile shotgun.
It's a one-shot-one-kill weapon.
It's a close and mid-range shotgun. Kill the enemy in one shot from around 20-30 meters.
This shotgun has the most firepower out of all of the shotguns along with the longest distance making this the number one shotgun to go with.
You can use this as your primary weapon it is that versatile. I know I love running around with this beast in quite a bit of smaller maps.
I use this as my secondary for my main class, the Tec-9. Here is the best loadout for the Tec-9.
.410 Ironhide loadout:
Muzzle: Infantry V-Choke
Barrel: 24.2″ Task Force
Body: Steady Aim Laser
Stock: Duster Stock
Handle: Airborne Lever Wrap
Overall, I would highly recommend you use this shotgun if you are into the most amount of power with the highest range.
#2 Hauer 77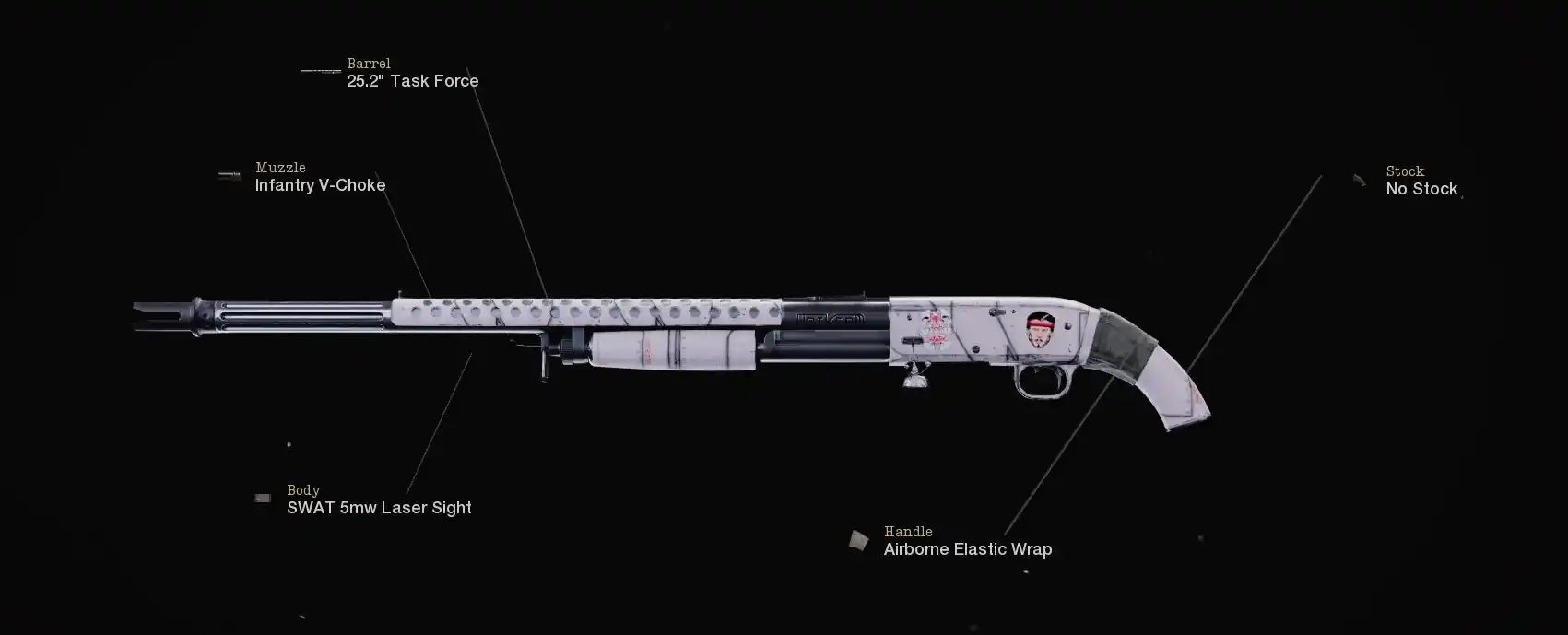 The Hauer 77 is a strong second and can possibly be your number one. It ties with just about everything in the .410 Ironhide except for the range.
It's a one-shot-one-kill weapon.
The sprint-to-aim time is perfect.
Great hip fire accuracy.
While this shotgun has impressive firepower, it is just slightly less than the .410 Ironhide. The Hauer 77 is what I use for my sniper class. Nonetheless, the firepower is more than enough for a one-shot-one-kill every time.
The only reason this is a close second is because of the range. Other than that, it is a fun weapon to use.
Hauer 77 Loadout:
Muzzle: Infantry V-Choke
Barrel: 25.2″ Task Force
Body: SWAT 5mw Laser Sight
Stock: No Stock
Handle: Airborne Elastic Wrap
Without a doubt, those are the two best shotguns in COD Cold War. Let me know what your favorite shotgun is to use.
If you liked this tutorial then subscribe to our YouTube Channel for other COD content like this. You could also check out all of our Call of Duty: Black Ops Cold War Guides to explore more content.
I love everything there is about gaming. That is just about what I always do because that is my true passion. When you don't find me indulging myself in gaming content, you can find me coding or somewhere outside where all you can hear and see is nature.
---